It can be extra challenging to navigate snowy terrain if your boots are too tight around the mid and forefoot, so I did some digging to find the best snowboard boots for wider feet. Compared to the alternatives you'll see later in this article, and others I researched, the Burton Ruler Wide Boots are the best choice for snowboarders with wider feet because they provide more space for better maneuverability and comfort.
I spent some time reading about these boots and even got the chance to try them out myself. So if you're planning to hit those snowy mountain trails anytime soon, but you're still struggling to find the right boot for your not-so-narrow feet, I'm here to tell you why the Burton Ruler Wide Boots are definitely worth the purchase.
Top Quality at First Sight
Lots of different snowboard boots use flashy aesthetics and fancy designs to catch buyers' attention. While the Burton Ruler Wide Boot doesn't necessarily follow that trend, you can tell it's a great boot the first time you see it.
Combining synthetic, mesh, rubber, and leather, this ultra reinforced boot marries style and a sleek silhouette to give you both form and function on the snow. With the unique Shrinkage Footprint Reduction Technology used for the design, larger sizes appear a lot smaller. This was done to benefit users with larger feet, so as to reduce the chances of toe or heel drag when using bigger boots.
Lightweight yet super robust and sturdy, the Burton Ruler Wide Boot just feels like a top quality boot right off the bat. But there's more to this top bet than just appearances.
Speed Zone Lacing for Greater Fit Control and Ease of Use
If you're like most snowboarders, you probably appreciate boot designs that don't really require you to sit down, take your time, and adjust every last strap and lace in order to get the right fit. With the Burton Ruler Wide Boot's Speed Zone Lacing, you may not even need to sit down at all.
The system allows lightning fast lacing control, allowing you to adjust the fit along the upper and lower zones of your boot in mere seconds. So simply tugging on the laces allows you to secure the boot snugly around your feet and ankles for safe boarding through even the most challenging trails.
The laces themselves are New England Rope laces which are practically indestructible. So there's no need to worry about wearing them out no matter how hard you pull.
Great Maneuverability with Mid-Ground Flex
The earlier versions of the Burton Ruler Wide Boot were a whole lot more stubborn than the ones you can get today. Back then, it would take a lot of effort to lean forward and bend around on your board to maneuver curved paths, but the newer version of the Burton Ruler fixes that.
With ankle articulations built into the ankle region of the boot, it offers mid-ground flex that's a lot more forgiving than the previous models. This, in combination with a reinforced toe box, makes forward leaning a lot more comfortable and natural. For people with wide feet in particular, the design also offers a lot more room for foot expansion during forward leaning.
The Warmest Burton So Far
It can be a drag to get cold fee when you're snowboarding, which is why lining and insulation is a major consideration you shouldn't overlook. The Ruler Wide Boot features Imprint Life Liners that use a number of different layers to give you greater warmth, comfort, and better fit straight out of the box.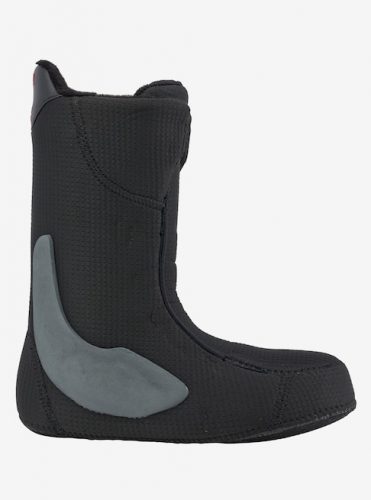 To come up with the system, Burton uses 3M Thinsulate Insulation that prevents heat dispersion. This particular component has been proven twice as warm compared to other insulation systems, allowing better heat management even when the environment is wet.
This insulation system works together with Sleeping Bag Reflective Foil inserts that are lightweight and low-profile. Ultimately, their purpose is to reflect heat back to your feet so you don't lost any warmth around the entire boot construction.
Broken-In Straight From the Box
Total comfort construction gives the boots a broken-in feel right off the bat. Built-in B3 Gel that lines the heel has replaced the air soles that we saw on the previous Burton Ruler models. These gel inserts are still just as shock absorbent though, and they retain their responsiveness even when exposed to extreme cold and moisture.
Plus, the gel is much more durable compared to the air soles. Giving the boot greater resistance against high impact, the gel soles don't lose their density or shape over time. This is a major improvement compared to the previous air soles that tend to wear out with constant use.
An Okay Outsole Design
To give you greater grip and confidence on your board, the Burton Ruler Wide Boot incorporates its signature DynoGRIP design. Along the front and heel of the sole, you'll find waffle-pattern treads. These give you more control over your board during turns and leans.
Personally, I found the traction to be just right. But I feel like it would be much more appropriate for easy cruising and maybe even just hiking in the snow. They're definitely not slippery but there is room for improvement. Nonetheless, it's not all that bad and could work well for casual snowboarders.
Pros of the Burton Ruler Wide Boot
Durable upper construction combines several different materials for greater resistance against cold, wet, and snow.
Lots of room in the toe box, so people with wider feet can lean forward without compression problems.
Speed Zone Lacing System is a dream-come-true, allowing fast and efficient on and off that doesn't sacrifice fit.
Definitely one of the warmest and most comfortable boots on the market, surpassing my expectations with heat retention and insulation.
Gel soles are a great improvement from the previous air soles, giving you greater resistance against high impact stunts.
Cons of the Burton Ruler Wide Boot
Traction could have been improved, but then again, it's not the worst there is.
Some Other Honorable Mentions
I was able to try a few other snowboard boots before making my decision. And while the Burton Ruler Wide Boot was my top pick, there were a few others that weren't too shabby.
Flux Bindings GTO-Speed Snowboard Boots

The Flux Bindings GTO-Speed Snowboard Boot features a wealth of features that could make it a great pick for people with wider feet. The Flex Cuff design wraps comfortably around the ankles while still providing enough flexibility for a natural boot flex. It also boasts a wider tongue that presses against the shin for more even weight distribution.
With a roomy toe box, a responsive cushioned sole, and flexible ankle sections, the Flux Bindings GTO-Speed Snowboard Boot is a versatile pick perfect for casual users.
Pros of the Flux Bindings GTO-Speed Snowboard Boots
Flex Cuff technology molds to your ankles and leg and gives you better boot flex for more comfortable use.
Responsive sole construction absorbs shock to give you more energy and prevent injury.
Wide tongue evens out pressure distribution to optimize performance.
Cons of the Flux Bindings GTO-Speed Snowboard Boots
The height of the shaft could limit support to the upper half of the leg.
ThirtyTwo Team Two Stevens Snowboard Boots
Although not explicitly stated, theThirty Two Team Stevens Snowboard Boots are designed with a slightly wider mid to forefoot area to accommodate wider feet. The entire boot was engineered to focus your weight at the heel. This unique configuration aims to give you greater control and balance, as many snowboard moves require heel maneuvering.
Inside the boot is a Level 3 Liner that hugs your feet as soon as you wear the boot to achieve optimal comfort and support. Built-in gel inserts insulate the interior and prevent heat loss, while giving you great responsiveness and shock absorption on the board.
Pros of the ThirtyTwo Team Two Stevens Snowboard Boots
Lots of toe room, eliminating compression during front leaning moves and tricks
Superior heat retention, keeping your feet nice and toasty despite harsh cold weather.
Satisfying comfort, definitely true to size, and form fitting straight out of the box.
Cons of the ThirtyTwo Team Two Stevens Snowboard Boots
The boot is a bit on the heavy side. So it's possible to experience some maneuvering issues particularly for those used to lighter boots.
The Verdict
TheBurton Ruler Wide Boots are a sure winner in my book for their top of the line construction, superior performance, and roomy design. Of course, the traction wasn't the best in the world. But considering all the factors, the boot is still the overall champ, offering the best results you can get on the board.
If you're thinking of checking out other options for wide-foot users, the Flux Bindings GTO-Speed Snowboard Boot and the Thirty Two Team Stevens Snowboard Boots won't disappoint either. Sure, there are a couple of trade-offs with each choice, but all in all, they're really pretty decent snowboard boots.