Red Wing has been manufacturing work boots and shoes of the highest quality for almost an entire century. The quality of their products is now legendary around the world. In fact, soldiers in the United States military wore shoes provided by Red Wing in both World Wars.
 Now, the company has evolved to meet the needs of new generations, and it offers over 150 styles that are suitable for work or leisure activities. While the tough steel toed work boots are favorites on construction sites and other hazardous workplaces, there are a multitude of occasions for which the softer moc toe is perfectly appropriate.
Moc is short for moccasin, that soft shoe primarily associated with comfort. One of the main reasons moccasins are so comfortable is because they have a roomy toe box which keeps your toes from being cramped without the necessity of a rigid upper. Red Wing has managed to incorporate this design into a wide range of styles, which will appeal to a variety of tastes and look great on any number of occasions – from work to an evening out.
Red Wing moc toe shoes and boots still have the same high standards as the steel-toed lines. Every single one is inspected by hand before leaving the factory, and the designs leave nothing to be desired.
Boots
Work boots are necessary in a great many environments where a steel toe is not necessary. In those places, Red Wing moc toe boots are entirely suitable, and desirable.
Red Wing Heritage Moc 6" Boot
 This is the classic Red Wing moc toe boot, and it comes in several different attractive colors. Created to suit a casual lifestyle, this model features a rugged look that is complemented by a waterproof leather upper. A Norwegian welt construction contributes to the strength and durability of this handsome boot.
The foundation of this comfortable moc toe model is a striking white crepe wedge made from Traction Tred rubber distinguished by quality triple stitching. It has a platform of about .75", with a 1 inch heel. The opening of the boot has a circumference of about 6 inches.
While most of the classic Red Wing colors and textures are available in this style, there are additional breathtaking shades which are rarely seen, such as Concrete Rough and Tough, Java Muleskinner and Sage Mojave. So there should be a choice suitable for almost anyone in this particular model.
Red Wing Heritage Roughneck Lace-Up Boot
The Heritage Roughneck Lace-Up Boot is so popular that it is offered in both a round toe and a moc toe, two colors of each. They both have the full grain leather upper with a rugged look featuring boldstitching. They also both share the same Vibram lugout sole, which will provide traction and grip on virtually any surface.
An EVA midsole offers cushioned extra comfort, while the welt and cement construction means durability is a given. With a platform measuring about .75", this model features a 1.5 inch heel. If you are looking for both comfort and classic styling, you'd be hard put to find a better choice than the Heritage Roughneck Lace-Up Boot.
Red Wing Heritage Cooper Boot
If you are looking for a boot with a 6 inch shaft which offers an extra dash of style, the Heritage Men's Cooper Boot is certainly a viable option. It features full grain leather uppers in 2 attractively neutral colors: Black Harness and Amber Portage.
While this moc toe boot features contrast stitching and a lace-up vamp, there is an understated elegance to the sleek design which makes it eminently suitable for environments other than the workplace. However, style is not sacrificed for comfort.
These shoes are extremely comfortable. Buyers have commented on how soft the leather is and the lightweight quality of the lugged Vibram soles. This model is great for those who would like a boot to go from casual to the workplace to slightly dressier occasions.
Red Wing Heritage Beckman Moc Toe Boot
This model is part of Red Wing's Beckman Collection, named after the company's founder. As befits that honor, the boot is a perfect combination of style and function.
Available in Black and Black Cherry Featherstone, the Heritage Beckman Moc Toe Boot will definitely take you beyond the workplace. Featuring full grain leather with contrast stitching and a piped topline, these lace-up work boots have a touch of retro style.
As great as they look, however, these boots mean serious business. The synthetic lugged sole will provide traction you can depend on, whether on the job site or strolling around town. Durability is ensured by the Goodyear Welt construction.
Red Wing Heritage Men's Beckman Embossed Moc-Toe Boot
As nice as the classic 6 inch Beckman Moc Toe boots are, the Embossed model takes them to a whole new level. With mono-tone rather than contrast stitching, as well as more elegant lines at the toe, sides and lace-up vamp, the whole effect is one of ultimate sophistication in a 6 inch boot.
However, the same Goodyear Welt for longevity and lugged soles for traction are still in evidence. The full grain leather uppers are also lined in breathable leather, so your feet remain cool and happy. The stacked woodgrain heel provides the final touch of comfort and style.
The Beckman Embossed Moc Toe is for those who insist on a 6 inch boot, but also want the ultimate in fashionable design.
Red Wing 8 inch Moc Toe Boot
Sometimes, you want just a little more coverage than a 6 inch boot will provide. In which case, you will want to take a close look at the 8 inch moc toe models. Featuring the same contrast stitching, lace up vamp and welted sole as found in other Red Wing models, this boot offers a versatile style that will be appropriate practically anywhere.
If you want to kick up a notch or two in style, the Heritage 200 series 8 inch version can make that happen.
Shoes
On the other hand, maybe you don't really need or want a boot at all, but you'd still like to have all of the advantages of a moc toe and Red Wing's quality.
Red Wing Men's Classic Oxford
Fortunately, Red Wing has you covered with classic Oxfordstyling. While most of the colors are only available with a round toe, the moc toe is offered in three very attractive hues: Mahogany, Black Chrome and Maize Abilene.
These Oxfords feature a 4 eye lace-up and Goodyear Welt, in addition to a Traction Tred sole with a 1 inch heel. Suitable for both work and play, this model offers a perfect blend of sturdy durability and professionalism.
All of the quality details found in Red Wing work boots are in evidence here. The Oxfords boast triple stitched seams combined with durable leather uppers. A subtly wedged crepe sole provides all the grip you need and cushy comfort for the longest work day.
Red Wing Heritage 200 Series Black Moc Toe Oxford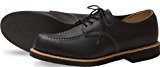 Once more, the Heritage 200 series takes a great shoe and raises it to an even higher level. Replacing the white wedged crepe sole with a more classic stacked heel and dark sole, this Oxford still provides a dressier, more luxurious look. It's perfect for those who want all the quality Red Wing features in a lace up shoe for occasions outside the workplace.
A Word of Warning
Like many popular brands, you need to be cautious that you are buying the authentic brand and not a knock-off which will be lacking in the quality Red Wing is known for. However, there is another issue that has cropped up with Red Wing products, which is rarely a problem but still needs to be mentioned.
Some buyers have found that the Red Wing shoes they have purchased, while authentic, were not completely up to the company's usual standards. Some things, if the price were low enough, could easily be overlooked – such as the logo not being precisely centered. Others, however, were completely unacceptable, such as the leather looking worn and faded.
It turns out that those shoes were factory seconds, and should by no means be sold at regular manufacturer retail prices. In some cases, the shoes were manufactured several years before. That is one fact which can be quite easily verified. Simply look beneath the tongue of the shoe, and you will find the month and year in which the shoes were manufactured.
When you buy from a reputable online retailer, or an authorized dealer for Red Wing in your local area, there should be no problem whatsoever in returning shoes and boots which are of sub-par quality. However, if you are making your purchase on eBay or a website that you aren't quite sure of, you may want to request the seller to provide a photo of manufacture date.
Comfort, Quality and Durability
Red Wing Shoes is synonymous with quality craftsmanship. From stylish, yet functional designs to the welting and heavy-duty stitching that result in impressive durability, the company leaves nothing to chance.
However, the magical footwear trifecta is not complete without comfort, and Red Wing excels in that area, as well. Nowhere is that more true than with the company's moc toe models. Whether you need a 6 inch or 8 inch boot, or a classic Oxford shoe, Red Wing has top of the line moc toe styles.