I've done a lot of research to find out which football cleats are the best for people with wide feet. And after going through literally hundreds of cleat designs, I recommend the Alpha Shark 2 Three-Quarter Football Cleat from Nike is the best choice if you want to experience professional performance without dealing with too snug a fit.
With durable materials that are stitched together to create a rugged, hardy design, the Alpha Shark 2 Three-Quarter Cleat was made to bring out the best in your game while offering the ideal fit for your special feet. At a glance, it's not hard to see that Nike rolled-out all their fancy bells and whistles to create the Alpha Shark 2. But what else does it have to offer that's hidden from plain sight? Here's a complete guide on all its nitty gritty details.
Incredible Lock Down for a Confident Fit
The problem with football cleats that are designed for wider feet is that they tend to get too roomy around the area of the toes. For a lot of people, this extra space can make the shoe too loose in certain areas. So your foot might move around inside the cleat itself, making it prone to accidents and poor performance.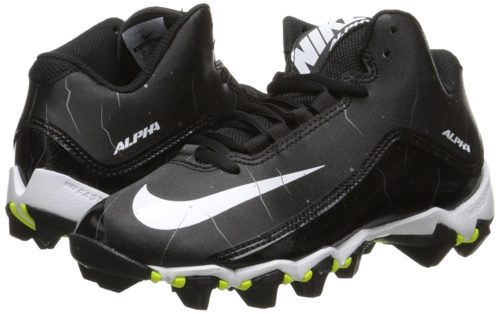 With the Alpha Shark 2 Three-Quarter Football Cleat, that won't be a problem. This is made possible by the shoes' Dynamic Fit System. Basically, this system is composed of the lacing system and the uppers which work together to help you achieve the ideal fit. By tightening the laces, you can reduce the extra width of the shoe to meet your actual size. This in turn locks down your feet to prevent them from moving around inside the cleat during use.
If you're looking for ankle lock down too, then the Alpha Shark 2 will definitely meet your standards. With a high ¾ cut high collar, the cleat prevents unwanted lateral movement as well. So this helps keep your ankles safe from injurious lateral movements that are common out on the field.
Studs Designed for Superior Traction
One of the biggest factors that decide whether or not a football cleat is worth purchasing is its stud pattern and efficiency. Without the proper cleat configuration, you'll struggle to find the right footing to navigate the field.
The Alpha Shark 2 features a TPU outsole that boasts a rugged 12-cleat design optimized for a solid grip. Studs that line the heel region curve slightly forwards, while those along the mid and forefoot curve back. This helps keep your foot from slipping either forwards or backwards when you sprint or move around.
It's also worth mentioning that the material used for the studs is particularly durable. So even with the onslaught of tough, demanding games, the cleats will be able to maintain the same traction you would enjoy out of them straight out of the box.
Finally, I want to talk about the intuitive forefoot cleats at the very front of the soles. The studs don't always make contact with the ground especially if your feet are parallel against the surface. But the slightly back-bent studs make it possible for users to achieve a much more stable toe off, giving you more power for those quick bursts on the field. So if you're a runner, these shoes might just be your ticket to the big leagues.
Incredible Comfort All Around, But Lacking Flexibility
Lined with plush padding around the collar, the tongue, and even along the sides of the interior, the Nike Alpha Shark 2 is probably as comfortable as a football cleat can get. The footwear designs helps you stay on the field longer by preventing discomfort and pain associated with poorly padded and cushioned models.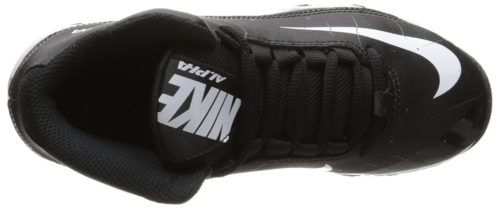 Now, while your foot might feel pretty sweet just sitting inside the shoe, I do need to mention how comfort seems to take a back seat once you start walking. This doesn't have a lot to do with padding as much as it does with flexibility.
The synthetic material used for these shoes feel a lot thicker than what you'd find on other football cleats. In effect, they feel a lot less forgiving once you start to move. While I'd like to say that wearing them after some time breaks them in, they don't really soften up too much to really be pliable enough for optimal comfort.
Kicking Takes Some Getting Used To
If you were planning to use these cleats for kicking, then you might be disappointed. Or you might need to practice for a while before you can achieve those all-star kicks because of the cleats' overall design.
The thick synthetic uppers decrease a lot of the ball feel, so you might not be able to fine tune your kick upon impact. This also reduces your ability to position your feet to adjust both angle and trajectory. The Alpha Shark 2 also fits pretty high up on the ankle. With limited ankle movements, you might find yourself compensating to kick in the best way possible.
Despite this, the material itself is pretty impressive when it comes to eliminating the chances of the ball slipping across the surface of the uppers. So really, the ultimate issue for kickers is getting used to the feel and restrictions of the cleat. Once you acclimate to the design, you might actually be able to achieve some pretty neat results.
What's Great About Alpha Shark 2
Offers superb lockdown to prevent your feet from moving around inside the shoe.
Gives enough space around the area of the toe box to accommodate wide feet, but also allows users to adjust the width to achieve a more personalized fit.
Studs feature an intuitive pattern and design that makes it possible for the cleats to grip wet terrain with ease.
Super comfortable in terms of the shoes' interior.
Durable on the overall, so there's no need to look for a replacement too soon.
Possible Downsides
Not exactly the best cleat if you're a kicker.
Be ready to feel some serious restriction and resistance when you try to move your feet.
A Few Other Cleats for Wide Feet
So maybe the Nike Alpha Shark 2 Three-Quarter Football Cleat didn't really fit your fancy. There are still some other pretty good picks out there. If you're thinking about checking out a few other options for your wide feet, I found these two other choices that might make the cut.
Under Armour Crusher RM Wide Football Cleats
There's a weird gray area when it comes to "wide feet." If you're one of the people who struggle to fit their feet into typical shoe sizes, but still find some room to move your feet inside wide footwear designs, then the Under Armour Crusher RM Wide Football Cleats are for you.
Designed to be slightly wider than traditional shoe sizes, the Crusher RM offers a snug fit despite having a roomier toe box. So they still provide the necessary support even if they're a little looser than typical sizes.
Some other things to love about the UA Crusher RM Wide Cleats include its sleek synthetic uppers that are lightweight and great for kicking, its efficient cleat configuration, and its comfortable flexibility that lets you run and kick with greater control.
What I Like About the Under Armour Crusher RM Wide Football Cleats
Provides great lockdown despite having a much roomier toe box than a lot of other cleat designs.
Great support all around, preventing chronic pain and discomfort.
Flexible and forgiving so you don't have to deal with the restriction of stiff uppers.
Cleat configuration keeps your feet firmly planted even on wet terrain.
Possible Downsides
Runs a size too small. Make sure you buy them in at least a half size bigger to better accommodate your foot.
Adidas Performance Freak High Wide Football Shoe
The last cleat I can recommend if you're looking for something that can fit your wider feet is the Adidas Performance Freak High Wide Football Shoe. The footwear boasts shiny synthetic uppers that feature a unique anti-abrasion IRONSKIN material around the toe area. This prevents any sort of damage to the most abused part of the cleat.
Ultimately, the Performance Freak High Wide Football Shoe is ideal for rugged players who want a shoe that can withstand hard-hitting play. It's durable, robust, and hardy – perfect for those who really beat up their footwear during a game.
What I Like About the Adidas Performance Freak High Wide Football Shoe
Tough outsoles feature an efficient cleat configuration for superb traction that really lasts.
Durable uppers and construction keep the cleats free from damage even after high intensity games.
Synthetic material is easy to clean and maintain, so they don't lose their aesthetic appeal.
IRONSKIN toe cap keeps the most sensitive and abused part of the shoes safe from damage.
Wide fit is perfect for users who struggle to find the right fit with narrow or typical shoe designs.
Possible Downsides
Not exactly the most responsive or flexible, so they may restrict a lot of your foot movements.
Doesn't really provide too much support, especially around the ankle areas.
The Verdict
The Alpha Shark 2 Three-Quarter Football Cleat from Nike is definitely a premium choice if you're in search of a worthy football cleat for your wide feet. The design is intuitive and efficient, enabling users to achieve optimal performance on the field while providing great comfort and a confident fit.
If you're not totally sold on the Alpha Shark 2, the Adidas Performance Freak High Wide Football Shoe and the Under Armour Crusher RM Wide Cleat are also some pretty decent choices. All in all, these three shoes simply stand out from other picks in terms of overall design, fit, comfort, and performance, so you can be sure you're getting a worthy purchase no matter which of the three you end up choosing.