The Thorogood War Fighter Boots are designed to rough it out through some of the most challenging conditions. Created for the battle field, these combat boots are incredibly reinforced. They give you superb protection, support, and stability so you can navigate with confidence.
Having read and researched extensively about this Thorogood design, it's no question why it makes a superb investment for men and women in the military. So if you're scouring the market for a suitable pair of combat boots, then I can definitely and confidently recommend the Thorogood War Fighter.
Eager to learn more about this robust combat companion? Read on through to find out everything I've learned about the War Fighter through my thorough research.
Premium, Combat Worthy Material
First things first – the War Fighter is an ultra-durable boot that's anti flame, slash, and abrasion. This allows the boot to provide its users with superior protection, keeping the feet safe from injury in the heat of battle.
The War Fighter achieves this superb hardiness by way of its brilliant combination of materials. The uppers are made primarily of Coyote Mohave leather and 1000 Denier Cordura which are basically impervious to rips, tears, and abrasion. So War Fighters perform particularly well even against jagged terrain, promising you unfailing protection for your feet in all conditions.
Vibram and TC4 Rubber make up the outsoles for this heavy duty boot. These materials are exceptionally effective at resisting wear, so they don't lose traction even after years of use under extreme conditions. They're also extra dense, so there's no need to worry about puncture wounds from jagged terrain or weapons.
Construction wise, the War Fighter was built with durability in mind. Uppers and outsoles are brought together by cement with sidewall stitches giving them excellent hold that prevents the different parts of the boot from ripping away from each other even after extensive use.
Killer Grip for Maximum Confidence on the Field
A steady step is one of the most important necessities for the battle field. Your body relies on your feet to get you where you need to go safely and quickly, without the tripping, slipping, and falling. That's why traction is a major consideration you need to make when choosing the right combat boots.
The War Fighter boot features one of Thorogood's most impressive outsole designs to date. These ultra heavy duty soles use Vibram with TC4 rubber. Ultimately, this combination of materials makes the soles flexible yet still extra durable to protect against punctures, rips, tears, and abrasion. The impressively rugged tread patterns are perfect for any and every kind of terrain, giving you satisfying grip no matter where your foot might land
Other than its tread and traction, the War Fighter's outsoles are also constructed with stellar durability. The Vibram walls up around the bottom edge of the uppers to create a waterproof seal, and is kept in place by reliable sidewall stitching to keep the two pieces together. The walls of the Vibram that wrap around the uppers also feature similar tread patterns that you see under the boot. This increases traction on uneven terrain, letting you work your boot into cracks and crevices in case you need to attempt a vertical ascent.
Interiors Designed for Hassle-Free Comfort

'Comfortable' is probably the last word you would use to describe the experience out on the battle field, but the Thorogood War Fighter tries its best to at least make that a feasible reality for your feet. The interiors of the boots are feature materials that make it a lot easier on your feet than most other boot designs.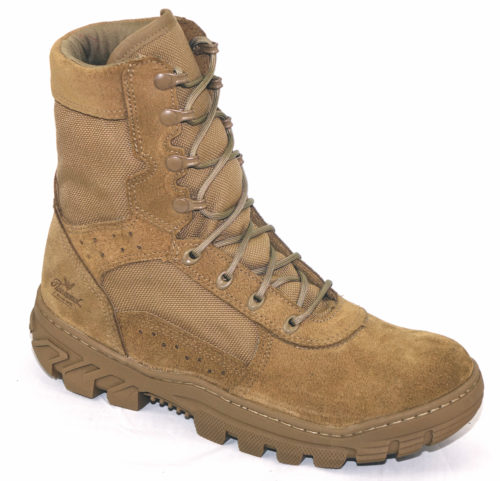 It achieves this with three distinct features. The first is its removable Thorogood Comfort 125 insoles which comfortably support the anatomical arches of the foot. The second feature is lateral and heel vents that serve as passageways for air, so your feet don't end up feeling sweaty and warm. Finally, the boot uses EMTEX Temper-Dri anti-bacterial lining that carries 138% of its own weight in the form of moisture. This keeps sweat away from the foot, but also dries up easily with exposure to air.
Impressive Lockdown for a Steady Step
The War Fighter goes the extra mile to make sure your feet don't slip and slide inside the boot during use. One of the design's features that help towards this end is its deep heel cup. This holds the heel in position and eliminates the chance of both forward and lateral movement.
The lacing system on the Thorogood War Fighter is also exceptionally well thought-out. It uses paracord laces which that thread through speed hooks halfway up the boot. I found them to be very easy to tighten and adjust, letting you achieve optimal fit and exceptional lockdown in seconds.
Lastly, the War Fighter features a gusseted tongue. The reinforced section of fabric presses snugly yet comfortably against the shin, making sure the boot stays in place even along the lower leg. All in all, these features come together to help guarantee your leg and foot's place inside the boot. So the entire design moves along with your every step, instead of giving you that clumsy feeling of having your foot move around inside a boot that's too spacious for confidence.
No Such Thing as the Perfect Boot
There are a few things keeping the War Fighter from becoming the perfect combat boot. Firstly, the boot does feel a little too snug in certain areas. The area of the mid and forefoot can feel extra cramped even when you get the right size. Sometimes, graduating up a few sizes can rectify the issue. But it could leave you with extra length up front that could feel awkward.
Second, some of the areas of the treads are too tight that small rocks and rubble might lodge in between them. A few good stomps can get them out. But when you don't have time to jiggle a rock out of your soles, it takes a toll on traction and feel.
Finally, they're not the easiest boots to wear. Users would have to loosen the laces substantially before they can fit their foot into the opening. Then it would take quite some adjustment to get the laces back into place for proper closure and lockdown. Overall, it just feels tedious and time consuming, which no one wants to deal with when they're gearing up.
Pros of the Thorogood War Fighter
Domestically manufactured boot is Berry compliant
DA PAM-670-1 compliant boot design
Coyote Mohave and 1000 Denier Cordura uppers are exceptionally effective at protecting feet and resisting a variety of types of damage
Proprietary Vibram and TC4 rubber outsoles provide maximum grip on any terrain
High-walled wrap-around outsoles help improve traction on vertical terrain
Molded Thorogood Comfort 125 removable insoles match your anatomical arches
EMTEX Temper-Dri lining absorbs moisture and keeps feet sweat-free
Slash, abrasion, water, flame, and oil resistant construction lets you move confidently through any condition
Heel and lateral vents keep interior climate cool and comfortable
Paracord laces are strong and sturdy, and are easy to adjust for reliable lockdown
Comes in both steel toe and non-steel toe variations
Cons of the Thorogood War Fighter
Slightly too snug around the mid and forefoot, even when you get your corresponding size.
Tread patters are prone to lodged rocks and rubble.
Not the easiest boot to wear.
Get ready to spend a pretty penny for these premium combat boots.
The Verdict
Can I recommend the War Fighter combat boots from Thorogood? Despite having a few flaws here and there, I'd say this boot design makes a great companion for combat. It puts its users' safety and comfort front and center. Plus, it does good on its promise to last several years of heavy use without giving in to damage, wear, or tear.
Price-wise, the War Fighter's are slightly more expensive than other combat boots on the market. Twice the cost, to be exact. But with this type of footwear, you really do get what you pay for. I'd say every dollar the War Fighter's cost is money well spent. If you were looking for something a little more affordable though without sacrificing quality, I can recommend the Thorogood Saw 8" Military Boot or the Danner Tanicus 8" Military and Tactical Boot.